Mark your calendar! In person registration will be July 11th from 1-5pm at the Elementary APR.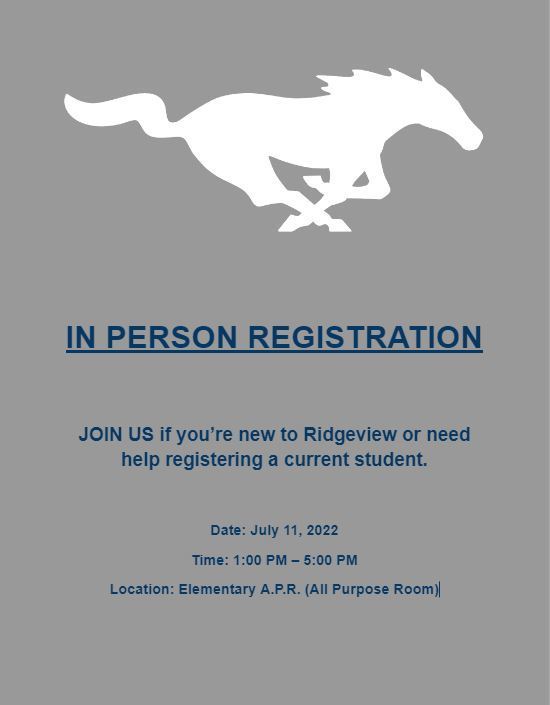 Ridgeview CUSD #19 will be hosting a presentation regarding the potential of adding a School Resource Officer to the district. The presentation will be held on July 18th at 7pm in the high school gym. Representatives from Ridgeview School District, Board of Education, and Village of Colfax will be on hand to provide information and answer questions about the position. The presentation is open to the community.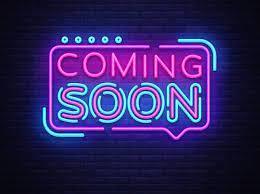 Today we welcomed back a few members of the Octavia Class of 1982! It was great to hear the stories, learn some history about the school, and take a walk down memory lane. Thanks for taking the time to stop by. Welcome Back!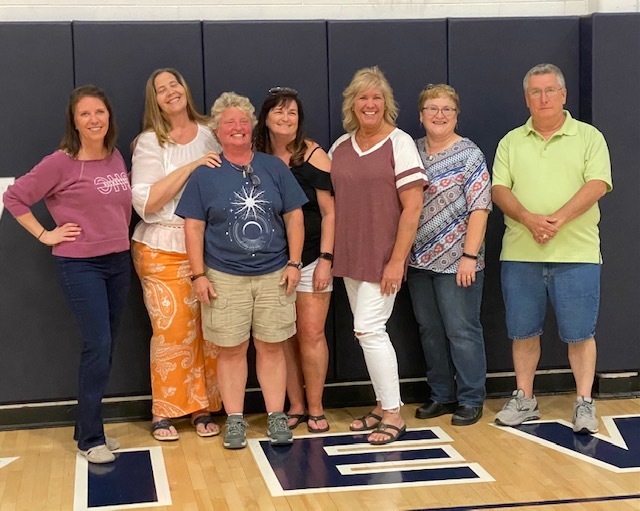 Good Evening, Currently, there are two projects Ridgeview CUSD 19 is considering, and your feedback is important. The link below provides more detail on these projects and an opportunity to provide feedback. Please take a moment to review.
https://www.ridgeview19.org/article/769568
*This article is also posted on the Ridgeview website. Thank you for your support of Ridgeview Schools! Mr. Young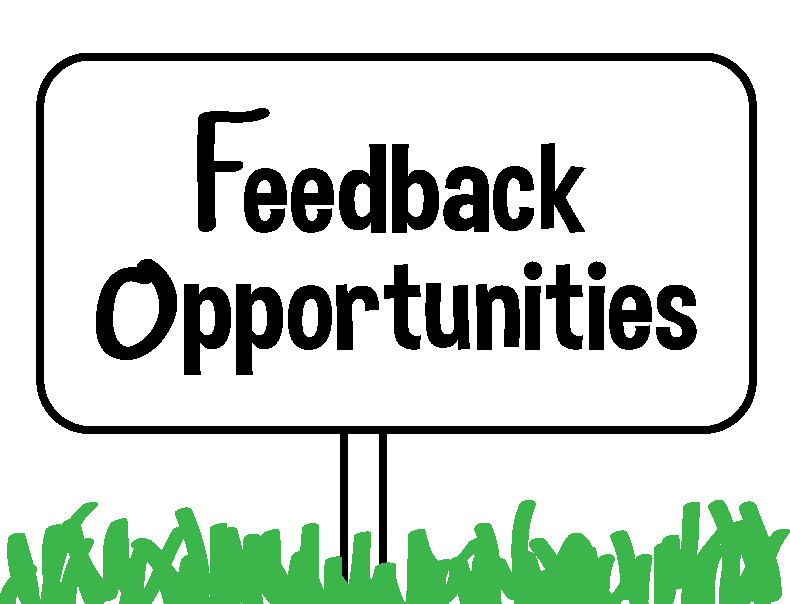 Ridgeview will be serving chicken nuggets w/ gold fish, green beans and applesauce for lunch today. Lunch will be served 11:45-12:30. Students must eat the meal in the school, food can't be taken home.

Please Note - The parking lot in front of the Elementary School and the bus lane behind the school will be closed to traffic starting tomorrow (6/3) for approximately one week for resealing and resurfacing. Those coming to the school should park in front of the High School, in the West Student Lot, or at the Baseball Field. We apologize for any inconvenience.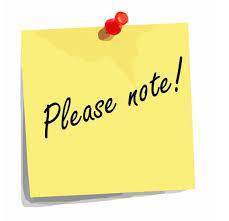 Ridgeview will be serving breakfast and lunch at the school this summer. Monday-Friday Starting June 6- June 30 Breakfast will be served at 8:30-9:00 and Lunch will be served from 11:45-12:30. Meals must be consumed on site, no sign up required and is open to anyone 18 years and younger. We will not be serving meals on June 20.

We've almost made it to the end of the school year. Thank you so much for your patients and support during all of the menu changes. Fingers crossed next year will be better.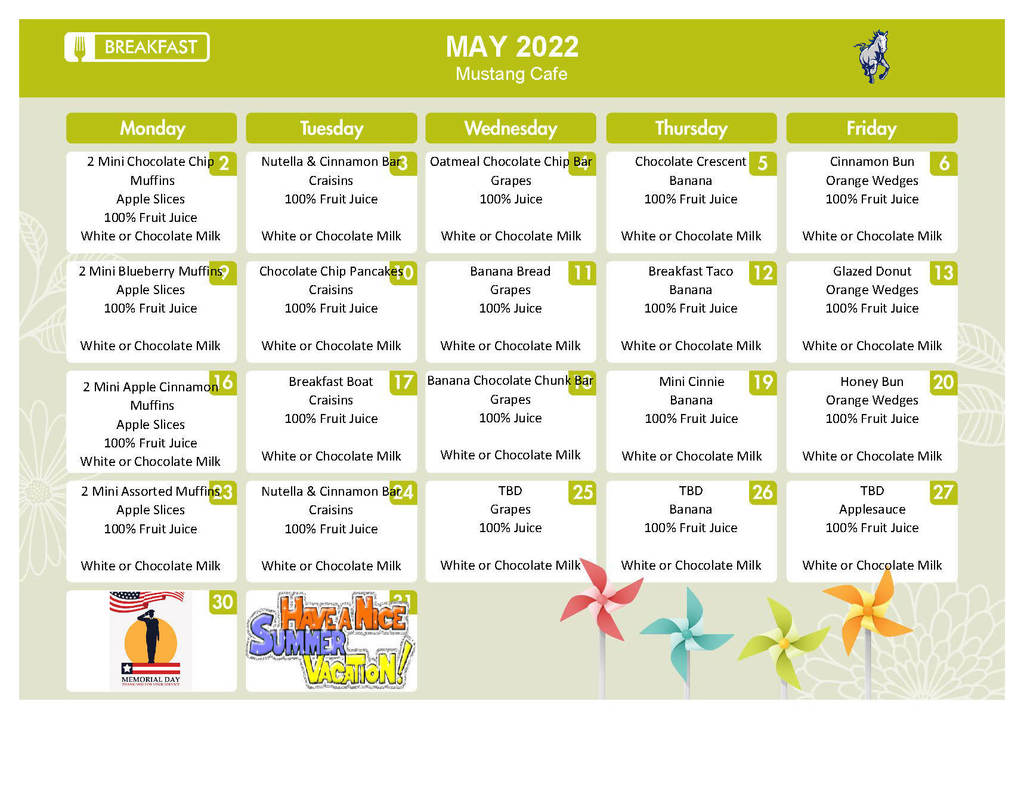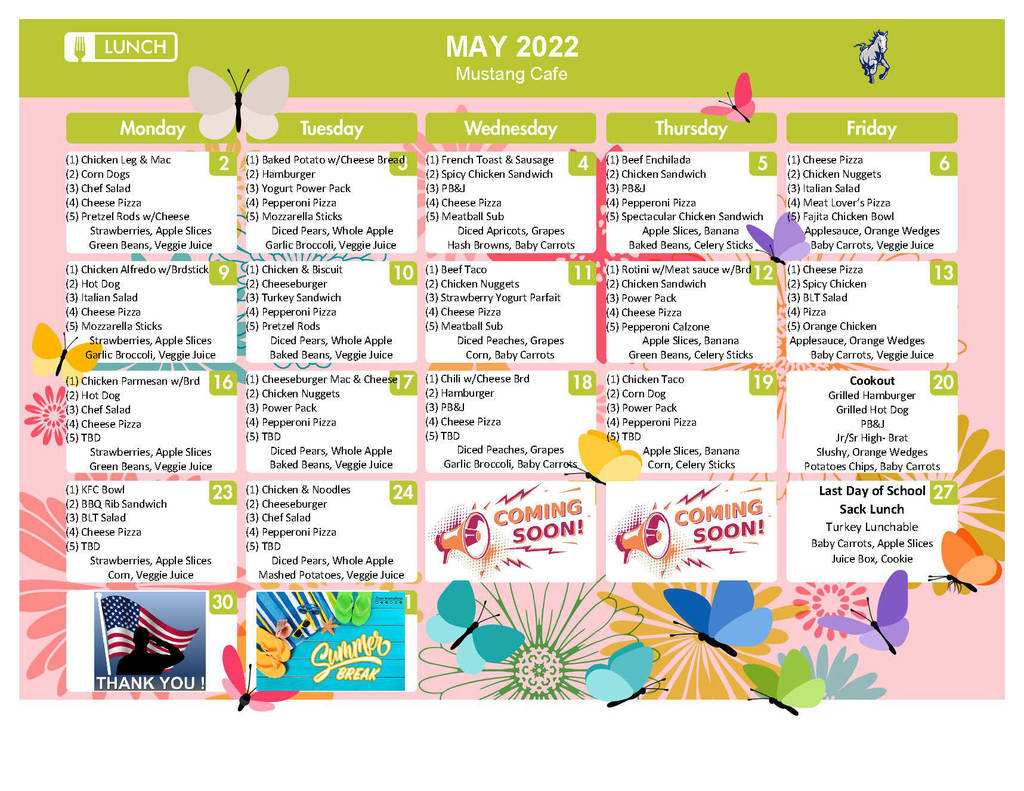 Please log into family access and fill out the brief survey concerning the summer food program by Friday May 2, 2022. There have been changes in the rules set by the USDA that will not allow parents to pick up meals for their children to consume at home, instead meals would be served daily at sites within the community and children would be required to eat at the site no food would be allowed to be taken home. We are trying to gage if there is interest in this type of feeding program.

Dear Families, This is a reminder that Ridgeview Schools will be dismissed at 12:05 pm tomorrow, Thursday, April 14th. There will be no school on Friday, April 15th or Monday, April 18th. We look forward to being back in session on Tuesday, April 19th. Please let us know if you have any questions. Have a safe and Happy Easter!

April's Menus, we are still experiencing supply chain issues so menu change may happen.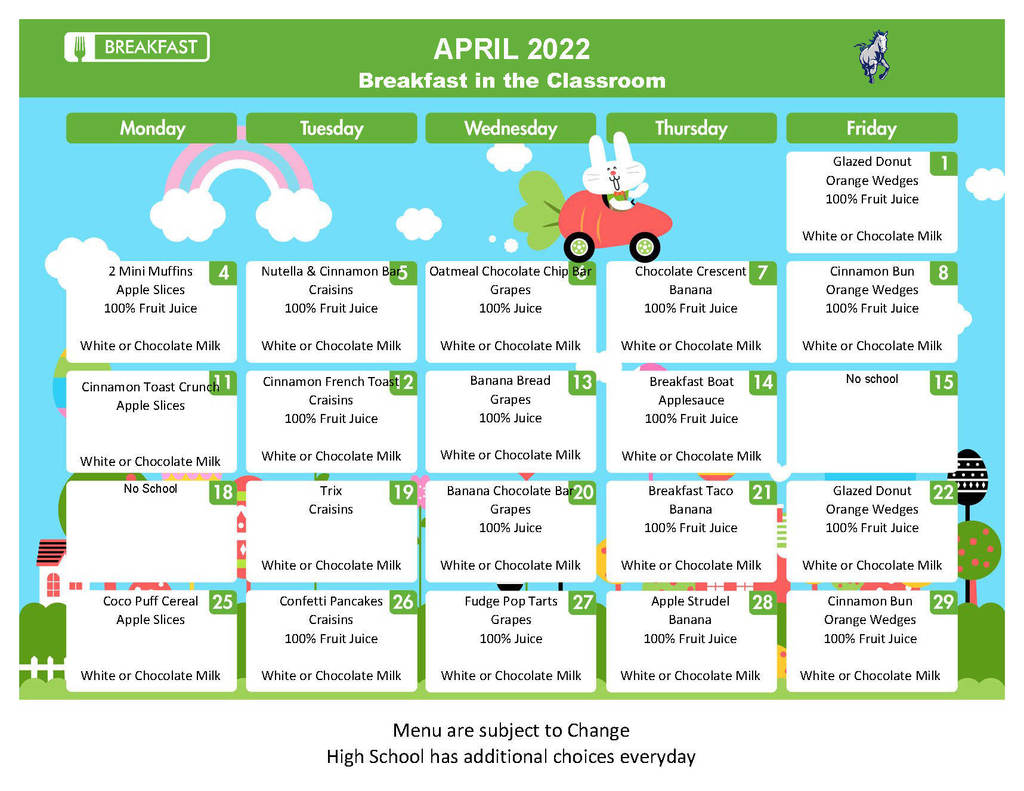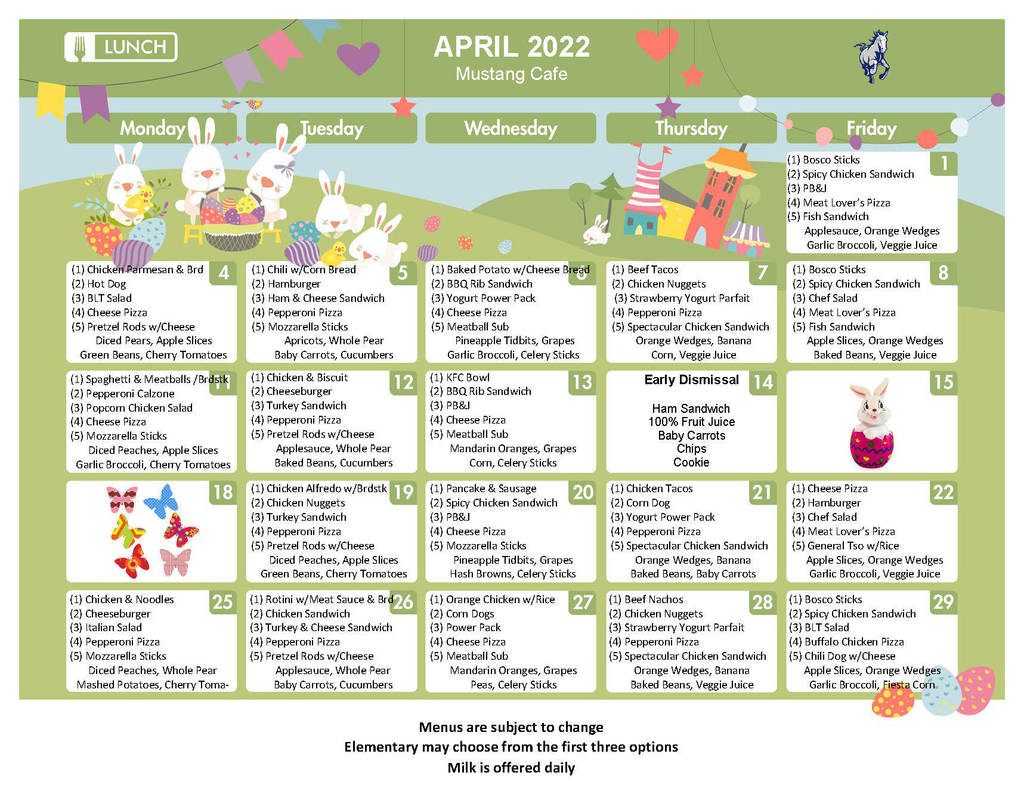 Menu Change for Thursday March 17...…we did not receive our shamrock shaped pretzels so we will be having Pepperoni Pizza Calzones as first option.

Good Morning, Due to snow covered icy roads, Ridgeview Schools will be using an E-Learning Day today. Teachers will reach out to students through their classroom platforms this morning. A decision on afternoon and evening activities will be made later today. Stay safe! Mr. Young

I am attaching the menus for March, we are still having supply chain issues so there could be menu changes.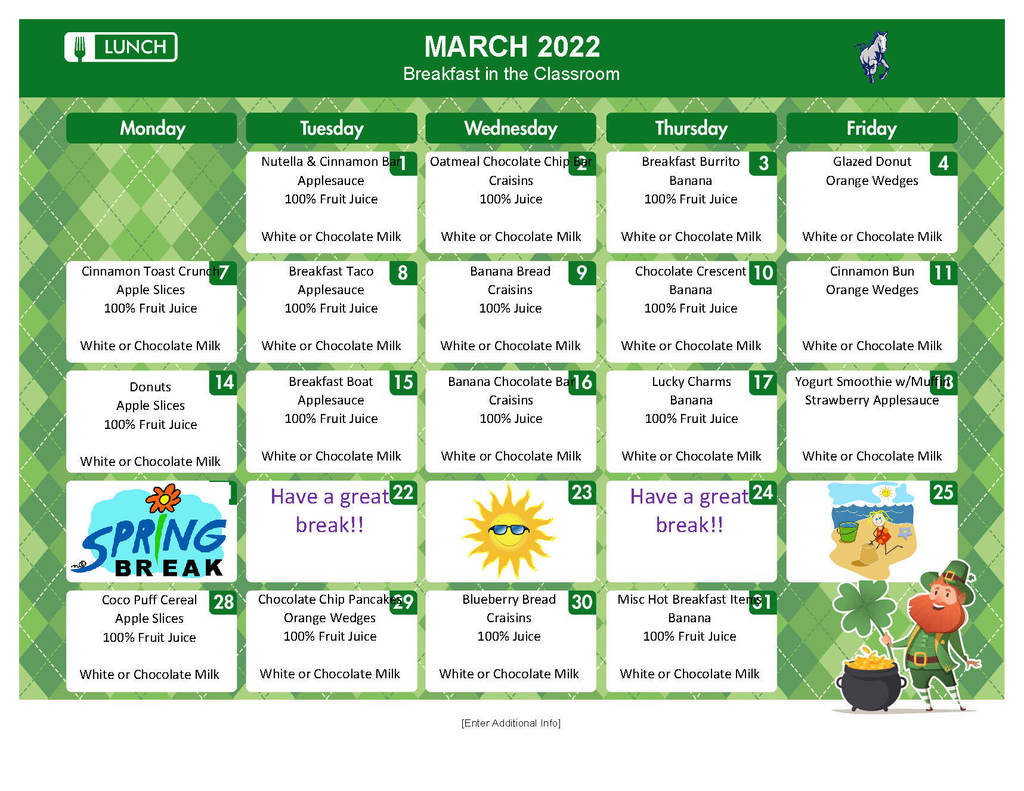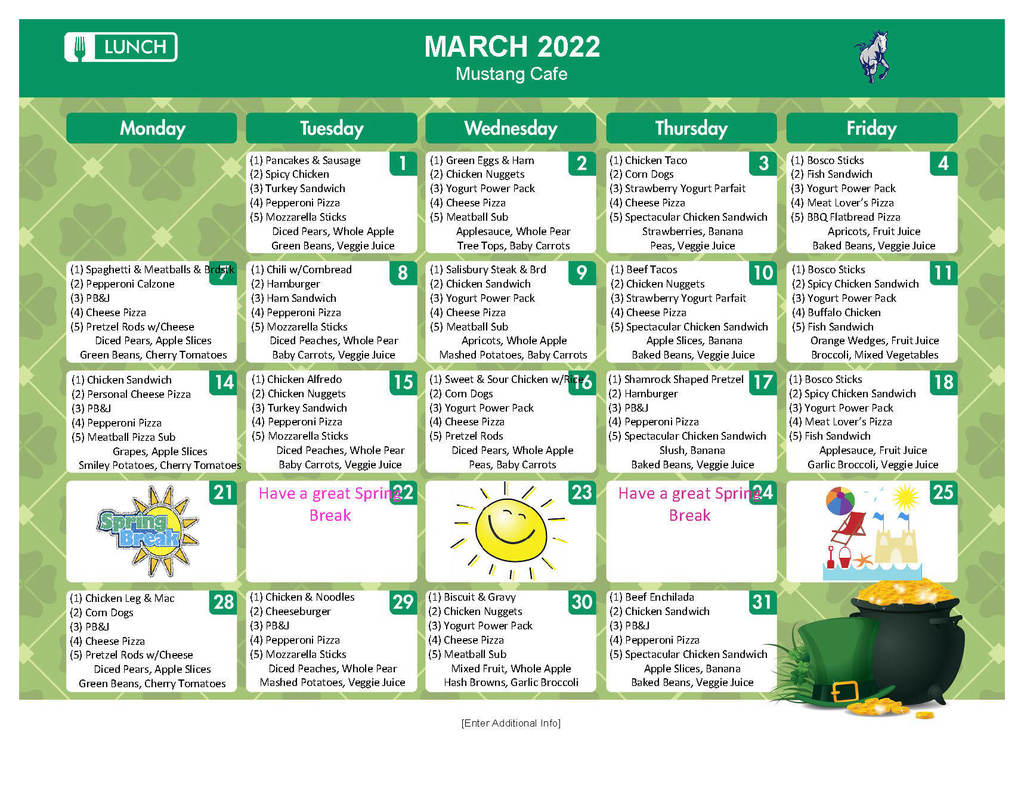 We were made aware this morning about 8:30 a.m. that an activity bus traveling to Bloomington was involved in a one-vehicle accident. The bus ended up off the road on its side. We are not aware of any injuries and have been in contact with all of those on the bus and the parents of all students on the bus. We are assured everyone is safe at this time. Out of an abundance of caution, all of those on the bus were taken to local hospitals. If you have any questions or concerns, please don't hesitate to contact the District office. Erik Young Superintendent Ridgeview CUSD #19

Good Afternoon, We have had to combine some of the bus routes for Thursday February 24th. Both AM and PM routes will be effected. On Thursday, students riding Bus #24 (JC's Bus), Bus #23 (Dena's Bus), Bus #22 (Marci's Bus) or Bus #20 (Chuck's Bus) may be assigned to a different bus/driver. Due to these changes, please expect time adjustments on Thursday for students on these routes. This will be similar to the route changes we made previously in the school year. If you have any questions or decide to find alternative transportation for your student this day, please let us know. Thanks for your patience and understanding.

Good Evening, Ridgeview School buildings will remain closed tomorrow. Therefore, all activities scheduled during the day tomorrow are cancelled. A decision on evening activities will be made by tomorrow afternoon. Just a reminder, there is No School on Monday due to President's Day. Have a great weekend! Mr. Young

Good Afternoon, Due to the high likelihood of adverse weather conditions tomorrow, Thursday, February 17, Ridgeview Schools will be utilizing an E-Learning Day. This decision is being made early to allow families time to plan. All school activities and use of facilities are cancelled or postponed for tomorrow. Information regarding rescheduling events will be shared separately. Teachers prepared students today and will be sharing information in classroom apps and platforms for learning expectations for tomorrow. Just a reminder - there is No School Friday, due to Teachers Institute. Again - E-Learning tomorrow and No School Friday. Stay safe and have a great day! Mr. Young

Good Evening, Important information regarding our COVID-19 mitigation strategies has been posted to Family Access. Thank you for your patience and understanding as we continue to work through this issue. If you have any questions, please feel free to let us know. Thank you for your support of Ridgeview Schools and have a great evening! Mr. Young Erik Young Superintendent Ridgeview CUSD #19