Good Afternoon, I wanted to make you aware our fire alarm activated again today at 10:47 a.m. The system was inadvertently triggered as routine work (on the system) was being conducted, and is unrelated to yesterday's alarm. It was a true false alarm.  All students and staff exited the building quickly and safely. The fire department did respond quickly, but were not needed. Students and staff were cleared to re-enter the building at 10:57 a.m.  Thank you for your support of Ridgeview Schools! Mr. Young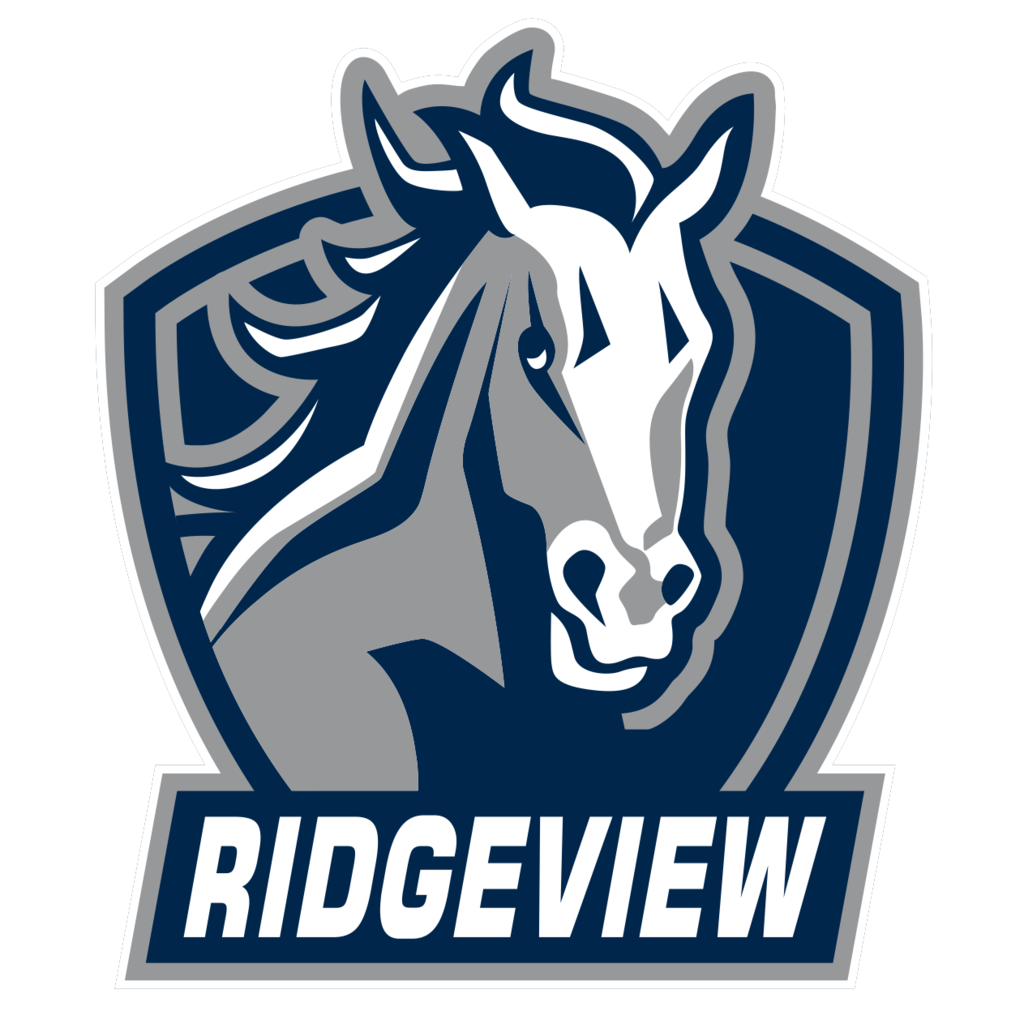 Good Afternoon, I wanted to make you aware our fire alarm went off today at 1:55 p.m., due to a mechanical issue. At this time the issue has been resolved. All students and staff exited the building quickly and safely. The fire department responded quickly and no heat, smoke or fire was detected. Students and staff were cleared to re-enter the building at 2:07 p.m.  Thank you for your support of Ridgeview Schools! Mr. Young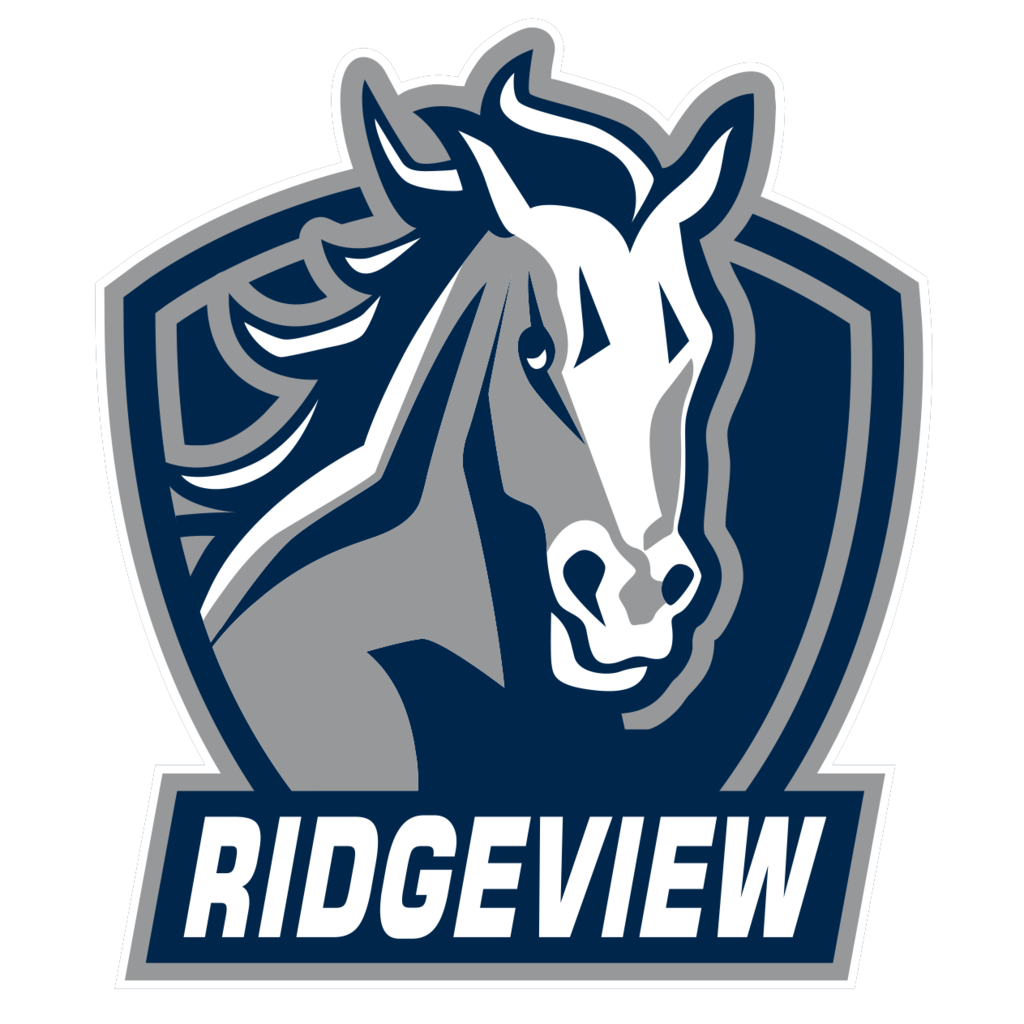 Menu Change Wednesday Option 1 chili will be paired with garlic knot and crackers not grilled cheese.
Back to School Health Reminder!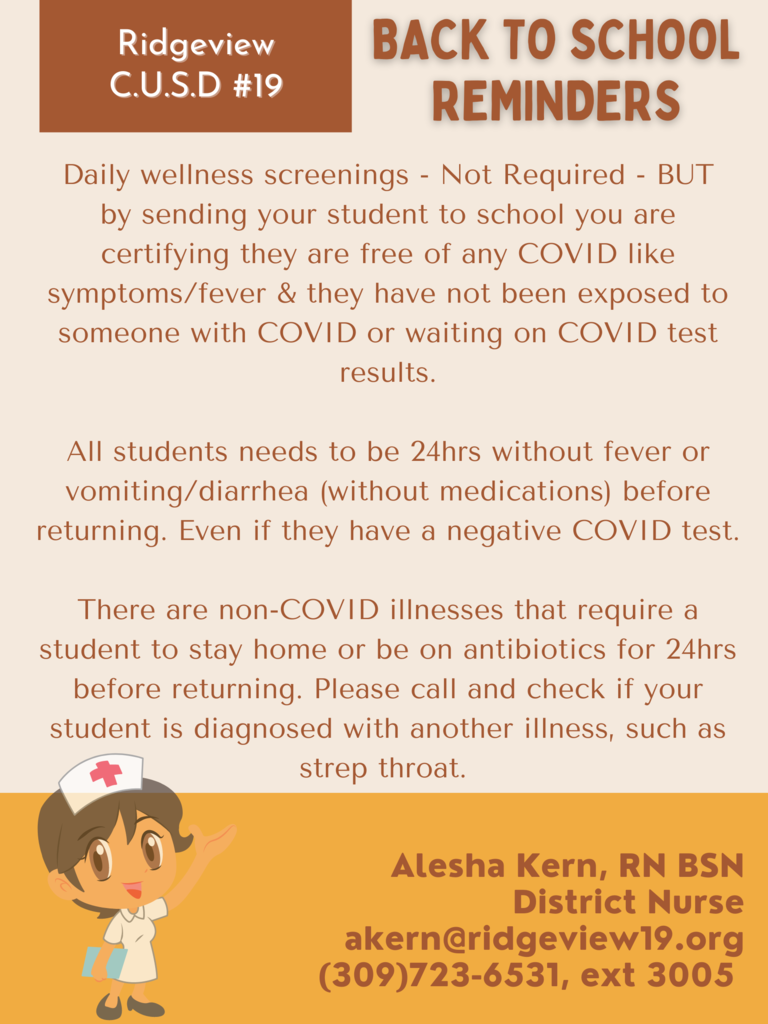 Students, Parents, and Staff - The Ridgeview Board of Education voted tonight and approved changes to the Return to Ridgeview plan. The most significant change is masks are required for all students, staff, and visitors while they are in the building. This is change goes into effect immediately. The board will continue to revisit the issue at their monthly meetings and make changes as necessary. There are other changes to the plan impacting quarantine times. These changes were also approved. The revised plan will be posted tomorrow (Wednesday). Thank you for your patience as we continue to navigate these challenging times. Mr. Young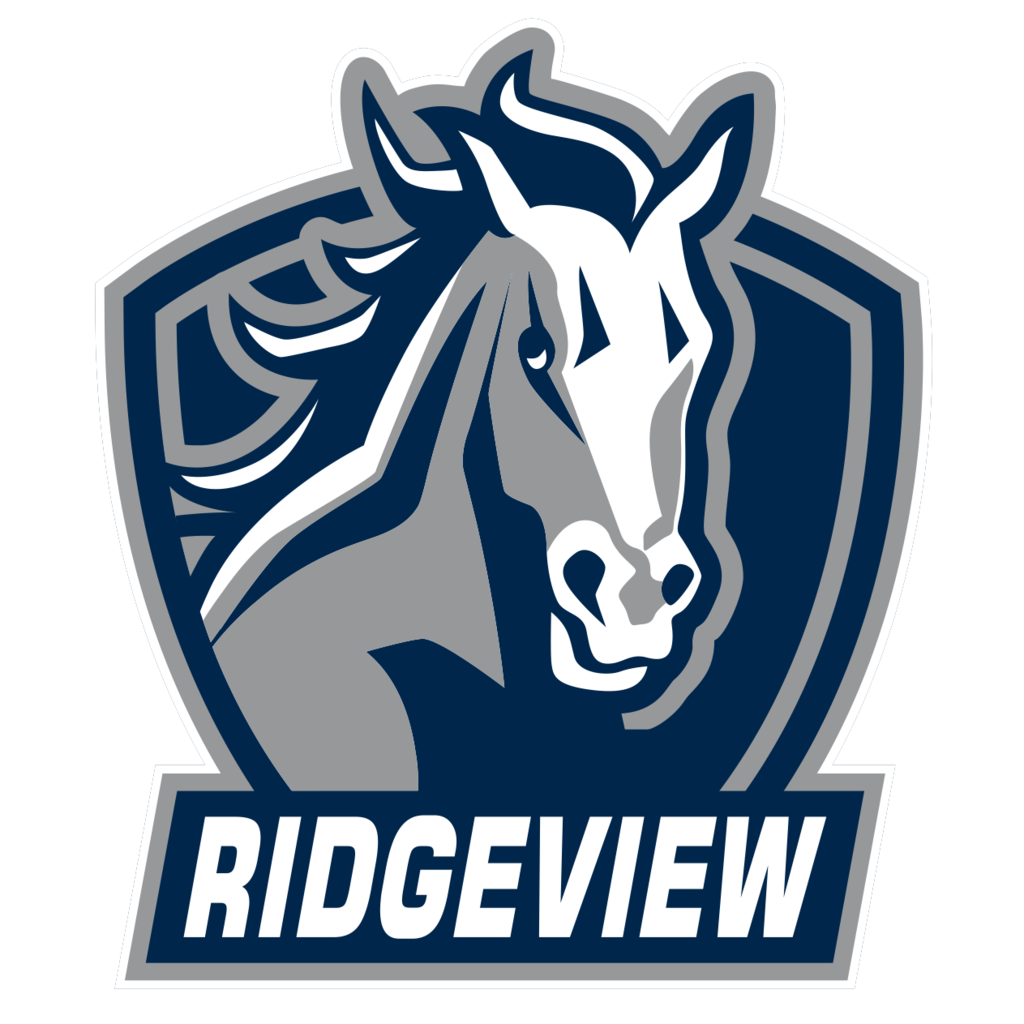 School starts tomorrow! This means buses will be out and about on the roads. Take a look at the picture so you know the proper protocol when you see a bus with their flashing lights activated. If the bus has activated the yellow lights - Slow Down and Be Ready to Stop! Students may be running to the bus, prior to it stopping. Always stop if the red lights are flashing!

Good Evening! Bus route information is now posted in Family Access. Thank you for your patience, as we had to re-work many of our routes. Please keep in mind the following points: 1. We still have students registering for school. This may impact routes. We will run an update each evening (over the next couple of days) and repost to Family Access. 2. As we get into the week and start running the routes, these times may fluctuate some. 3. Make sure the pick-up and drop-off location is correct. 4. Pre-K routes have not been loaded. If you have questions, or need to make changes, please contact the District Office or email
district@ridgeview19.org
with the requested change. Thank you again for your patience! Mr. Young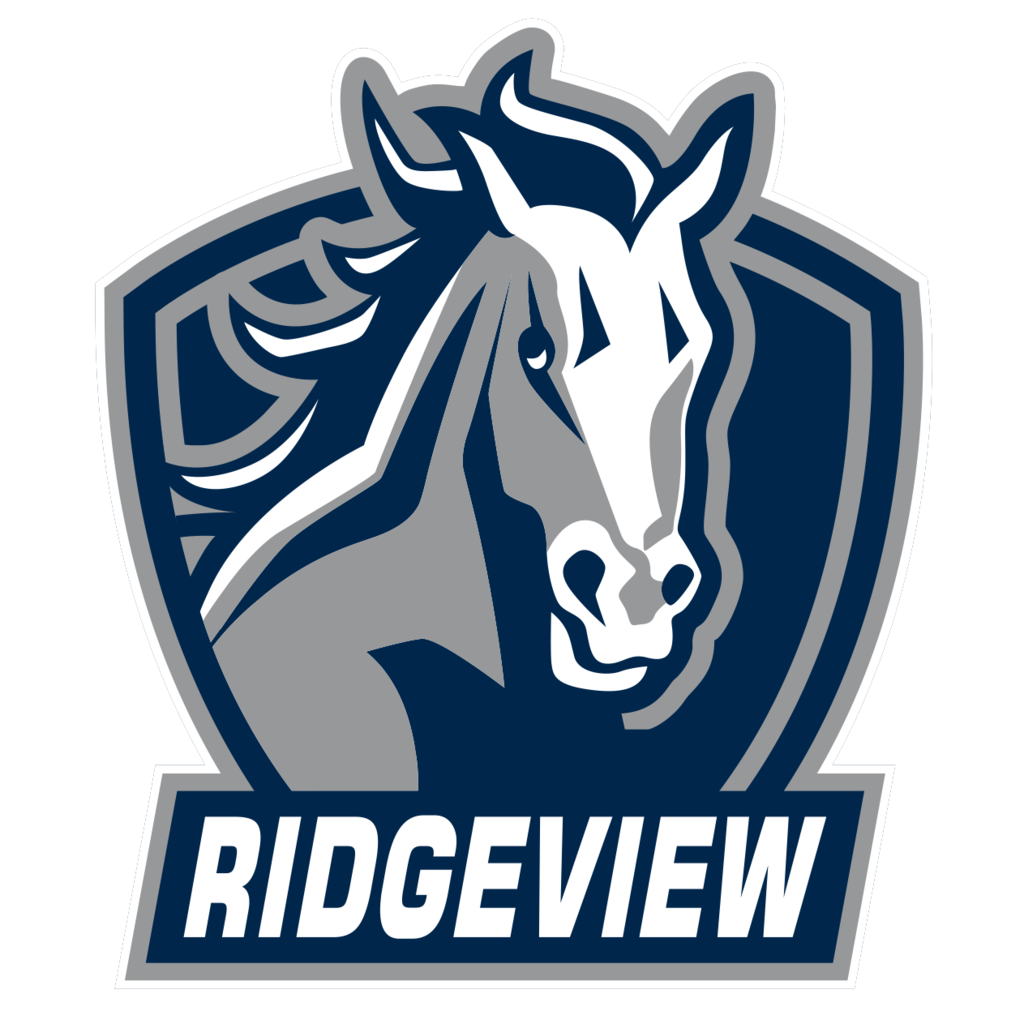 Good Evening! An "All Call" to Parents and Staff was recently sent out at 4:30PM today (Friday). We are utilizing a new notification system, so the number the call came from maybe different than past calls(ex. Little Rock, AR). If you are a parent or staff member, and you did not receive a call, please contact the District Office to ensure we have your information correct. The information from the call can also be seen in Family Access. Have a great weekend! Mr. Young
The Red Cross will be hosting a community blood drive at Ridgeview on July 29, 2021 from 1 pm-6 pm. With hospital blood needs outpacing blood donations, the Red Cross urges everyone to help overcome a severe blood shortage! All who come to give July 7-31 will receive automatic entry for a chance to win gas for a year (a $5,000 value) and a $10 Amazon.com Gift Card by email. Please help and donate now!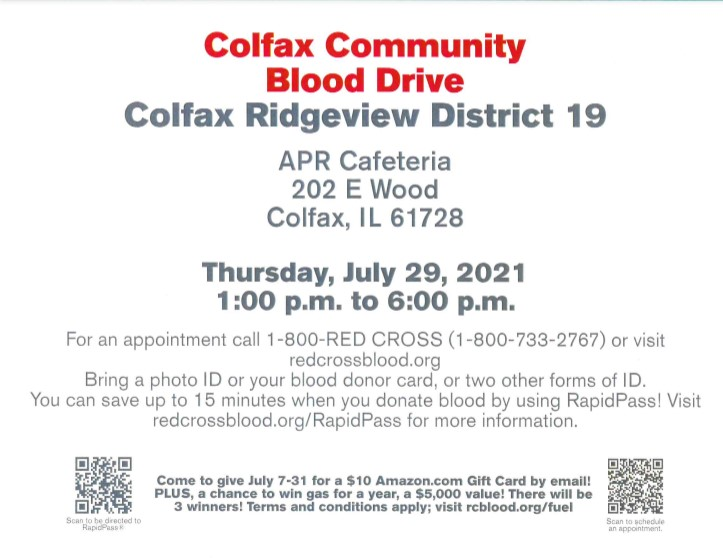 Ridgeview Parents The 2021-2022 Return to Ridgeview plan has been posted to your Family Access account. The plan outlines details for how we intend to start the 2021-2022 school year. Additionally, online registration is open! If you have not registered your child for school, you can do so online now. In-person registration is on August 5th from 1pm-5pm in the APR/Cafeteria. If you have any questions, please contact the unit office. Thank you for your support of Ridgeview Schools and enjoy the rest of the summer! Mr. Young
Heating instructions for this weeks meals.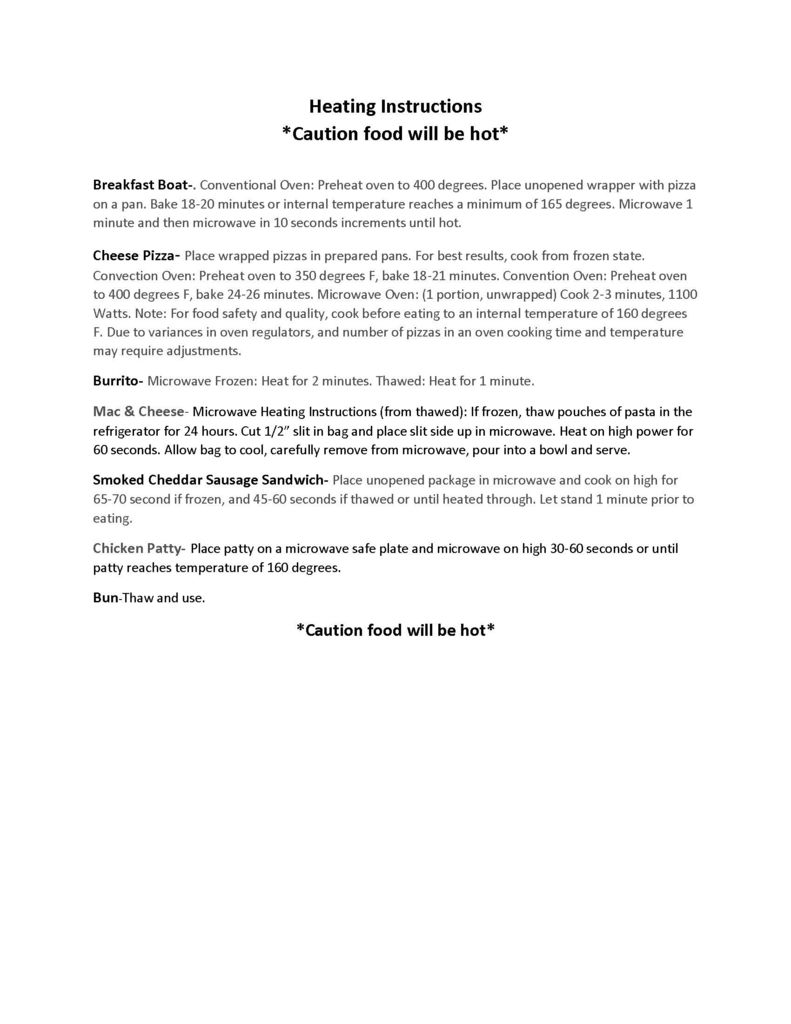 We will be handing out meals tonight from 6-6:20 at the School behind the South Gym in the bus lane. This program is free to any child that is 18 years and younger, they do not have to live in the Ridgeview School District. The meals consist of 7 breakfast and 7 lunches and each child receives a gallon of milk.
Wednesday will be another food pickup day for the Summer Food Program. We will be in Anchor at the park from 12:15-12:30; Saybrook at The Edge 12:25-12:40: Arrowsmith on the Main Street 12:50-1:00 And Cooksville at the park from 12:50-1:00. We will also be in Colfax at the school in the bus lane behind the South Gym 12:15-12:35. Thursday we will be doing an evening pickup from 6:00-6:20 in the bus lane behind the South Gym. This program is offered free of charge to any child 18 years and younger, they do not have to attend Ridgeview Schools.
If you didn't get a chance to pickup meals of Wednesday we are offering a second chance pickup on Thursday. We will be in bus lane at the school at the loading dock from 6-6:20. There is no signup needed and any child 18 and younger may receive meals. Children younger than school age are eligible and kids that live out of district.
The pick up location for the summer feeding program will be in the bus lane at the School behind the south gym.
I hope you are all having a great summer so far! We will be starting our summer feeding program pickup sites on Wednesday June 9 and will have a second chance pickup on Thursday evening located at the school. We will be providing seven breakfast and seven lunches each week and any child 18 years and younger may receive meals. There is no sign up for meals.

The 2020-2021 school year has come to a close and I want to say thank you to all of our students, parents, faculty, staff, and communities. By working together we were able to provide a successful in-person learning experience for our students. The classrooms were alive with kids ready to learn. The courts, fields, and track were bustling with activity and noise. The band played, voices sang, clubs met, and friends were together. What an awesome thing to see! Our students persevered and succeeded in the face of uncertainty. They showed us all how to be resilient and hopeful. Our parents showed unending support, understanding and flexibility. Our teachers gave their all, and then gave some more. They faced seemingly endless obstacles, while continuing to guide, support, and care for each and every student. Our support staff worked harder than ever to ensure that everyone and everything was expertly taken care of. Our communities rallied around our schools and everyone exemplified MUSTANG PRIDE! We faced the challenges together and now we're stronger than ever. I'm extremely proud and grateful to be a part of this district. I wish everyone a great (and much needed) summer break! Erik Young Superintendent #MustangPride

Today we began planting our monarch butterfly habitat. This area will be utilized in the future to educate students on variety of agricultural and biological related topics.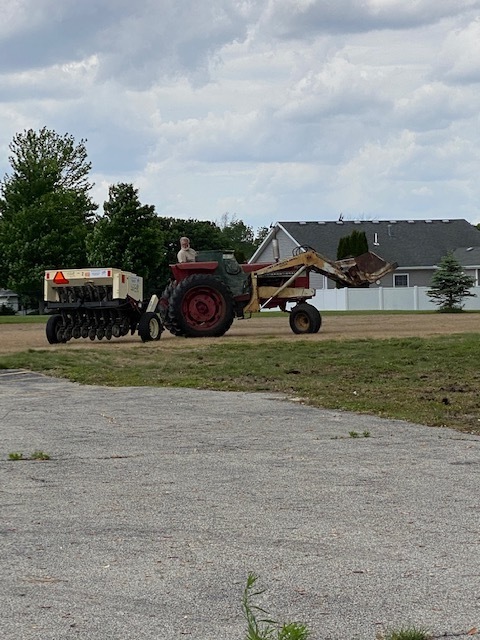 The Ridgeview School Board welcomes Kathryn Thorndyke and Katelyn Jones-Hamlow as the newest members to join the Board. They were appointed at the Special Board Meeting on May 18th. (Pictured, Front row: Kathryn Thorndyke, Andrew Harper, Katelyn Jones-Hamlow Back row: Pam Rathke, Jeff Harris, David Vandegraft, Christie Wissmiller)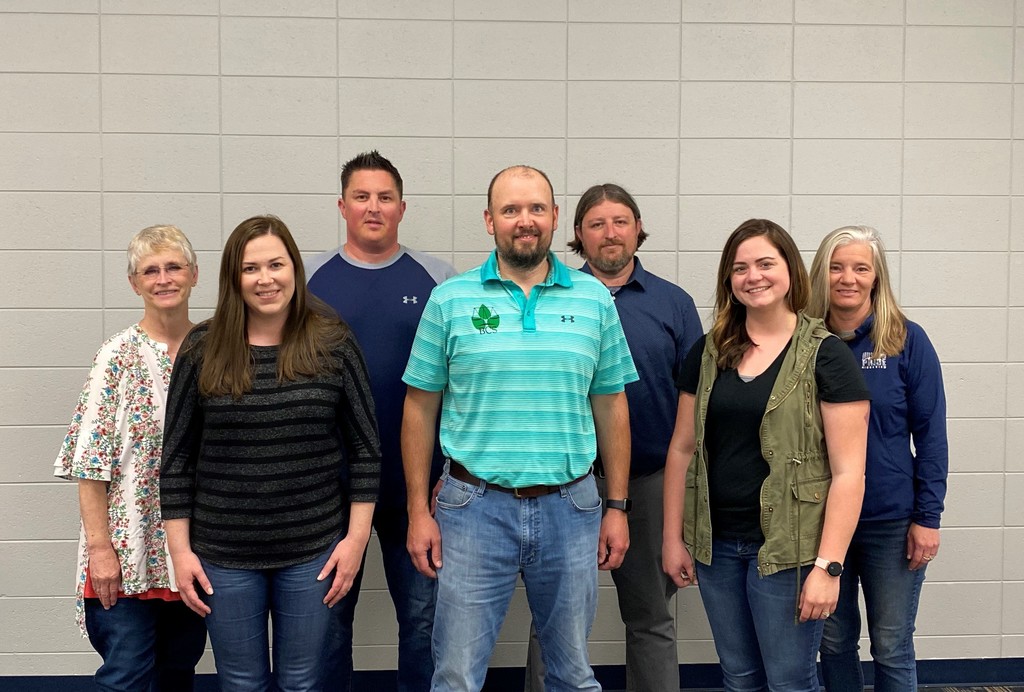 There will be a slight change to the schedule for the Summer Feeding Program. Our evening pick up in Colfax will be on Thursday instead of Wednesday all other times and locations remain the same